Our PATENTED weighted blanket is designed by a team of American engineers.
After lots of research, development, design & countless prototypes, we believe we have come up with the finest heavy weighted blankets on the market. Our innovative weighted anxiety blankets are the first of their kind! But since we are rather humble engineers & do not like to toot our own horn (except for the toot horning ritual we hold every day - just kidding!), here is why we believe our Serenity Engineered™ weighted blankets are literally the WORLD'S FINEST WEIGHTED BLANKETS:
Version 2.0 is Now Released!!
Since the release of this video, we launched the 2.0 version of our patented weighted blanket. This updated version features a single, continuous zipper to attach the blanket to its cover, eliminating the need for 4 separate zippers.
Great News! we have now added King-Size 80"x87" blankets and duvet covers to our collection.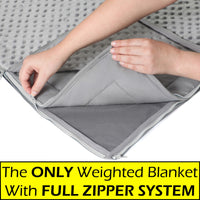 REVOLUTIONARY PATENTED ZIPPER SYSTEM:
We provide the one & only weighted blanket on the market that uses a FULL ZIPPER SYSTEM to easily attach or detach our blanket from its cover. We know that zippers are more expensive to buy and way more difficult to sew as opposed to ties, but that did not stop us! Our blanket's innovative zipper system is hassle free. No more annoying ties breaking off, coming loose, weight shifting or blanket bunching up inside the cover. Just zip/unzip & it's done! What's more, our weighted blankets are also easily washable! Get in touch with our team to buy heavy weighted blankets for sale online at affordable rates.
Click Here To Order your weighted blanket with patented Zipper system
SEE THE ZIPPER SYSTEM AT WORK
Our blanket has a two-part design: a weighted blanket & a cover. To detach the cover from the weighted blanket, it would be best to lay the blanket on a flat surface. Then unzip the cover's perimeter zipper & afterwards unzip interior zipper & voilà!! You are done!! 
Click Here To Order The world's best weighted blanket for adults & Kids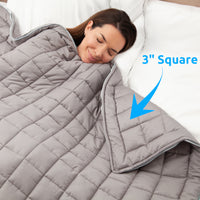 OUR UNIQUE POCKET/QUILT SIZE:
Besides our industry-exclusive patented zipper system, we also designed & tested various pocket sizes to house the glass beads that give our blanket its weight. Ultimately our testing & analysis proved that 3" square is the optimum pocket size compared to others with ~7" squares. Our pocket size yields an exceptional weight distribution as the weight gets evenly distributed over a whopping  ~700 pockets in our 80"x87" weighted blanket and compared to only ~140 pockets in others and ~500 pockets in our 60"x80" weighted blanket compared to only ~80 pockets in others & an impressive ~270 pockets in our 40"x75" weighted blanket compared to only ~70 pockets in other weighted blankets on the market (but who's counting 😉) 
Click Here To see our cool weighted blanket collections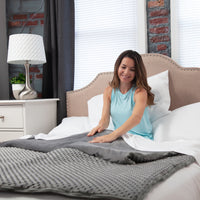 PREMIUM MATERIALS:
We obsessed over every detail from fabric selection to even the thread we used. We picked some of the thickest Minky & premium cool MicroPeach fabrics for our blanket.  The silky soft Minky cover is made to give you that cozy weighted blanket you've been dreaming of & the MicroPeach cover is perfect for the hot sleepers. These two covers could serve as a cool weighted blanket for summers & a fluffy warm heavy blanket for winters. We also used high tensile strength threads (which is a fancy word for very very strong threads) to sew our weighted blankets & covers. Just try breaking our threads by hand (just kidding). But rest assured we actually tried & tested - they are virtually indestructible.
Click here to order your washable anxiety weighted blanket
OUR SUPERIOR WEIGHT FILLER MATERIAL:
Our weighted blankets get their weight from tiny, hypoallergenic, odorless & non-toxic glass beads. We picked just the perfect size glass beads so they won't leak out & you won't hear them moving inside your blanket. We then mix the beads with a precise amount of cushy material. This keeps the glass beads suspended inside the blanket while making our blanket nice and fluffy. But don't take our word for it! Try it for yourself & see why our weighted blanket is literally THE BEST ON THE MARKET!!!
Click here to start enjoying your heavy weighted blanket benefits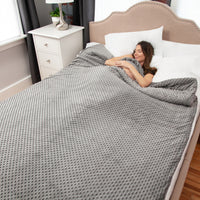 OUR WEIGHTED BLANKETS' GENEROUS SIZES:
Our innovative 10lb Twin Size, 15lb & 20lb Queen Size and 25lb King Size Cool Weighted Blankets work on the principal of applying sufficient pressure on the body to simulate a deep touch therapy hence promoting relaxation & deeper sleep. Our cozy anxiety blanket may be used by adults & kids to help with stress, insomnia, ADHD, autism, sensory disorder, anxiety or as a heavy quilted blanket or even as a lap weighted blanket. Our generously sized 40" x 75" weighted blankets are large enough to fit most body sizes & our 60" x 80"  queen size weighted blankets are large enough to fit all body sizes. Our King Size 80" x 87" weighted blankets are perfect for sharing
Click here to explore our Queen & Twin Size 10 lb, 15 lb & 20 lb weighted blankets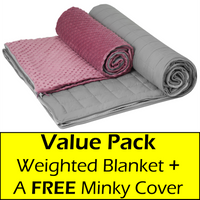 VALUE ADDED PACKAGE:
We know washing a dirty weighted blanket is not for the faint of heart, but some companies still sell their weighted blankets without a cover. So, to keep your blanket clean, you would almost always end up purchasing a cover later on. It is then that certain fundamental questions would come up. Questions like: would the cover fit? Would the ties & loops in weighted blanket & cover correspond? Why is earth round ❓. So to make it easier on you, we are offering our weighted blanket with a free custom made silky soft Minky duvet cover that can easily be detached & machine washed. Our Minky cover is super cozy & cuddly (& if you do not like cozy, congratulations! You are officially declared a unicorn 🦄). All joking aside, we just wanted you to have the best of the best. 
Click here to explore our collection of weighted blankets for sale
Testimonials
Absolutely Amazing

⭐⭐⭐⭐⭐

I can't say enough about this blanket. I bought one from Walmart it was simply ok the beading shifted in the blanket. This blanket is amazing. I am a retired Veteran with many deployments under my belt. I am prescribed sleeping pills but they don't work. With this blanket, I was able to sleep and stay asleep without night terrors for the first time in 5 years. I took a nap in the middle of the day without jumping straight up when someone made a nose. I plan to but another to travel with when I visit family. It is well made and the beading doesn't shift even when it hangs off the bed. It is soft and very durable. The zipper on the blanket locks everything in place. I could go on and on about this blanket. For me, it gives me the temporary peace I need to get a good night's sleep.

Chelle D
Tell your friends!

⭐⭐⭐⭐⭐

Tell your friends! Let me just say this I'm a doctor a family crisis and I care about people very much and I have found this blanket to be something I can recommend to my patients. Some people have emotional support animals, but if you don't this will be the next best thing. Because of the small squares per square foot they hit the pressure points that you need with uninterrupted fluidity. All my patients I recommended it to have said nothing but great things about it. Thank you for making this blanket it has changed the way I sleep ,-)


Dr. D.
I love this blanket!!!

⭐⭐⭐⭐⭐

Before purchasing this weighted blanket, I did a lot of research of details and reviews for a variety of brands and price ranges, and that research was worth it.
A few of my favorite things:
1) the zipper duvet concept keeps the blanket covered and evenly held in place - SO smart!!!
2) the smaller 3" inch glass bead pocket size keeps the beads evenly dispersed; in fact I haven't notice any shift of beads yet ... and I have had a month of use so far.
3) the minky duvet / cover is so soft and very warm, (I imagine I will get the cotton cover for Summer months)
4) the 15lb seems pretty heavy when carrying the blanket, but doesn't feel too heavy while sleeping under it.
5) and best of all: my sleep is less interrupted as I don't toss and turn nearly as much, going from 6 hours of sleep per night before having the blanket, now up to 7, and sometimes 8 hours, a night with the blanket. That alone made this a great purchase!

With Christmas coming, I am considering a few of these as gifts for my family members.

A. M.
Best Blanket!!!

⭐⭐⭐⭐⭐

This weighted blanket is amazing!!! The smaller squares really do make a difference. I have another weighted blanket that has large squares and the pressure becomes too much throughout the night and causes anxiety and pain and I have to take the whole thing off. I never have pain or anxiety with this one. It's perfect!! The cotton cover is a must for summer too.

C
A no "fuss" blanket weighted blanket

⭐⭐⭐⭐⭐

i love the zipper option for the blanket, such a great idea, you dont have to worry about the cover coming loose and adjusting it every time you use the blanket. In addition the small quilted pockets inhibit the blanket from bunching to one spot, it stays evenly distributed. The material is very soft and good quality. Although the blanket was an investment, it was well worth it, snuggling on the couch and sleeping has never been more comforting

A. C.
Brilliant Design!

⭐⭐⭐⭐⭐

Love the quality of this blanket! I have researched which blanket I wanted to purchase my son for quite some time. This is the only blanket that I have found with 3 inch squares. The 3 inch squares prevent excessive shifting of the weighted material, and allows more weight to be distributed over the person sleeping rather than off to the side of the blanket. In addition, the inner weighted blanket is zippered to the duvet. Reviewers of other weighted blanket manufacturers have mentioned that the ties, typically used to attach the blanket to the duvet, break due to the weight of the blanket. The zippered design on this blanket insures that the blanket stays attached so the weight doesn't shift. I just ordered a second one for my daughter.
One note, it only comes with the minky duvet. If you want the duvet for cooler sleeping you will have to order that directly from the company. Brilliant design! Thank you!

David Rovin